---
Justin Timberlake
11. 3. 2007
Justin Randall Timberlake (born January 31, 1981)[1] is an American pop singer-songwriter, record producer, dancer and actor. Justin has won six Grammy Awards as well as an Emmy Award.
Justin Timberlake came to fame as one of the lead singers of pop boy band 'N Sync, whose launch sadly enough was financed by con man Lou Pearlman. In 2002, he released his debut solo album, Justified, which sold more than 7 million copies worldwide. Timberlake's second solo release, FutureSex/LoveSounds, was released in 2006 with the U.S. number-one hit singles "SexyBack", "My Love", and "What Goes Around... Comes Around". The album also spawned three additional U.S. top twenty hits ("Summer Love", "LoveStoned", and "Until the End of Time") making it the first time a male artist has achieved six top twenty hits from one album since Michael Jackson did so from 1991–1992, with his album Dangerous.[2] As of January 2008, FutureSex/LoveSounds has sold more than 8 million copies. With his first two albums, Timberlake has sold more than 18 million records worldwide alone, as well as more than 50 million copies as one of the two lead singers in NSYNC. He has started a record label called Tennman Records and a fashion label, William Rast.
Life and music career
Early life
Timberlake was born in Memphis, Tennessee, the son of Lynn Harless (née Bomar) and Randall Timberlake.[3] He has English and Native American ancestry.[4] His paternal grandfather, Charles L. Timberlake, husband of Bobbye Joice, was a Baptist minister, and Timberlake was raised in the Baptist religion; he considers himself more "spiritual than religious", though still a Christian.[5][6] His parents divorced about 1985 and both have remarried; his mother, who now runs an entertainment company called Just-in Time Entertainment, remarried to Paul Harless, a banker, when Justin was aged five; while his father, a choir director at a Baptist church, has two children, Jonathan (born c. 1993) and Stephen (born c. 1998), from his second marriage to Lisa.[7] A half-sister, Laura Chwieseni, died shortly after birth in 1997 and is mentioned on one of Timberlake's record acknowledgments as "My Angel in Heaven".[8] Timberlake grew up in Shelby Forest, a small community between Memphis and Millington. His first attempts at a singing career saw him singing country music songs on Star Search as "Justin Randall".[9]
In 1993, he joined The Mickey Mouse Club. There he met future girlfriend and pop superstar Britney Spears, future tourmate Christina Aguilera, and future bandmate JC Chasez.[10] When the show ended in 1995, Timberlake recruited Chasez to be in an all-male singing group organized by boy band manager Lou Pearlman.[11] The group would come to be known as *NSYNC. His first movie debut in 1999 was entitled Model Behavior, in which he played the role of a made-up celebrity named Jason Sharpe who "unknowingly" falls in love with a local waitress. Model Behavior was a made-for-TV film, specifically for the Disney Channel.[12]
1995–2002: 'N Sync
Timberlake and JC Chasez, who had known each other in the Mickey Mouse Club, were the two lead singers of the popular 1990s boy band, 'N Sync.[13] The group formed in 1995 and started their career 1996 in Europe, and hit it big in the United States two years later in 1998 with the release of their debut album *NSYNC in the US. *NSYNC sold 11 million copies alone.[14] The album included a number of hit singles such as Tearin' Up My Heart. For the next two years, they, encouraged by similar situations in the Backstreet Boys, engaged in a lengthy legal battle with corrupt manager Lou Pearlman. Eventually they signed with Jive Records.[15] They released a long-awaited album, No Strings Attached, in March 2000, which became the fastest-selling album of all time with 2.4 million copies sold in its first week[16] and produced a #1 single, It's Gonna Be Me. The release was followed by their third album, Celebrity, which held the title of the second-fastest selling album of all time. In 2002, after the completion of their Celebrity Tour and release of Girlfriend, the third single from Celebrity the group decided to take time off, at which point Timberlake began work on his first solo album and the group went into a hiatus. In its lifetime, NSYNC was internationally famous and performed at the Academy Awards,[17] the Olympics,[18] and the Super Bowl,[19] as well as selling more than 50 million copies worldwide,[20] becoming the third best-selling boyband in history.[21]
2002–2004: Justified and Super Bowl
See also: Justified and Super Bowl XXXVIII halftime show controversy
In August 2002, after months of recording the album, Timberlake performed at the 2002 MTV Video Music Awards, where he premiered his first single, "Like I Love You", a sparse dance track produced by The Neptunes.[22] The song reached number eleven on the Billboard Hot 100.[23] Following the single, Timberlake released his debut solo album, Justified, on November 5, 2002.[24] The album sold fewer copies than previous 'N Sync efforts. It debuted at number two on the Billboard 200 album chart, selling 439,000 copies in its first week of release. It eventually went on to sell more than three million copies in the U.S. and more than seven million copies worldwide.[25] The album also received critical acclaim, thanks to its heavy R&B influence provided by hip-hop producers The Neptunes and Timbaland.[26] It spun off hits throughout late 2002 and 2003, including the top ten singles "Cry Me a River" and "Rock Your Body".[23]
Timberlake supported the album by co-headlining the Justified/Stripped Tour with Christina Aguilera in the summer of 2003.[27] At the end of the year, Timberlake recorded a song entitled "I'm Lovin' It". It was used by McDonald's as the theme to their "I'm Lovin' It" campaign. The deal with McDonald's earned Timberlake an estimated $6 million.[28]
In February 2004, during the halftime show of the Super Bowl XXXVIII broadcast on the CBS television network, Timberlake performed with Janet Jackson before a television audience of more than 140 million viewers. At the end of the performance, Timberlake tore off a part of Jackson's black leather costume in a "costume reveal" meant to accompany a portion of the song lyrics. Part of the costume became detached, and Jackson's breast was briefly exposed.[29] Timberlake apologized for the incident saying that he was "sorry that anyone was offended by the wardrobe malfunction during the halftime performance of the Super Bowl...".[30] The phrase "wardrobe malfunction" has since been used by the media to refer to the incident and has entered pop culture.[31]
As a result of the controversy, Timberlake and Jackson were banned from the 2004 Grammy Awards unless they agreed to apologize on screen at the event.[32] Timberlake attended and issued a scripted apology when accepting the first of two Grammy Awards he received that night (Best Pop Vocal Album for Justified and Best Male Pop Vocal Performance for "Cry Me a River").[33] He had also been nominated for Album of the Year for Justified, Record of the Year for "Cry Me a River", and Best Rap/Sung Collaboration for "Where Is the Love?" with The Black Eyed Peas.[34]
2004–2006: Collaborations and acting
After the Super Bowl controversy, Timberlake put his recording career on hold to act in several films, having starred in a few feature films earlier in his music career.[10] The first role he took during this time was as a journalist in the thriller Edison Force, which was filmed in 2004 and received a direct-to-video release on July 18, 2006.[35] He also appeared in the films Alpha Dog, Black Snake Moan, Richard Kelly's Southland Tales, and voiced a young King Arthur in the animated film Shrek the Third, released on May 18, 2007.[36] He also appeared as a young Elton John, in the video for John's song "This Train Don't Stop There Anymore".[37]
He continued to record with other artists. After "Where Is the Love?", he again collaborated with the Black Eyed Peas on the 2005 track "My Style" from their album Monkey Business.[38] Additionally, Timberlake was featured on Nelly's song, "Work It", which was remixed and included on Nelly's 2003 remix album.[39] When recording the 2005 single "Signs" with Snoop Dogg, Timberlake discovered a throat condition.[40] Nodules were subsequently removed from his throat in an operation that took place on May 5, 2005.[41] He was advised not to sing or speak loudly for at least a few months.[42] In the summer of 2005, Timberlake started his own record company, JayTee Records.[43]
2006–2008: FutureSex/LoveSounds
Timberlake made a cameo in the video for Nelly Furtado and Timbaland's single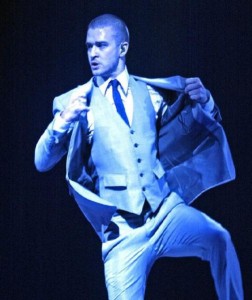 "Promiscuous". He released his second solo album, FutureSex/LoveSounds, on September 12, 2006.[44] The album, which Timberlake created in 2005, debuted in the number one position on the Billboard chart, selling 684,000 copies its first week.[44] It is the biggest album for pre-orders on iTunes, and beat Coldplay's record for the biggest one-week sales of a digital album.[45] The album was produced by Timbaland and Danja (who produced a bulk of the album), will.i.am, Rick Rubin and Timberlake himself, and features guest vocals by Three 6 Mafia, T.I. and will.i.am.[46] A studio representative described it as being "all about sexiness" and aiming for "an adult feel".[41]
The album's lead single, "SexyBack", was performed by Timberlake at the opening of the 2006 MTV Video Music Awards and reached number one on the Billboard Hot 100, where it remained for seven consecutive weeks.[47] "My Love", the album's second single, also produced by Timbaland and featuring rapper T.I., reached number one on the Hot 100, as did third single "What Goes Around.../...Comes Around Interlude". The song is reported to have been inspired by the break-up of his childhood friend and business partner, Trace Ayala, with actress Elisha Cuthbert.[48] In October 2006, Timberlake said that he would focus on his music career rather than his film roles, specifying that leaving the music industry would be a "dumb thing to do at this point".[47] He was the special guest performer at the 2006 Victoria's Secret Fashion Show for being where he sang SexyBack. In January 2007, Timberlake embarked on the FutureSex/LoveShow tour. "Summer Love/Set the Mood Prelude" was the fourth U.S. single off the album, and the next single in the UK was "LoveStoned/I Think She Knows Interlude". The song "Give It to Me", a Timbaland single on which Timberlake guests with Nelly Furtado, reached the Hot 100 number-one spot.[49]
In April 2007, Timberlake was seen entering a London studio with Madonna, thus confirming rumors that he was collaborating with the pop star. He revealed that "we actually wound up with 5 or 6 really good songs, some finished, some unfinished, and we're gonna go back in July and finish some more stuff." When asked if he would be singing with Madonna, he said, "[p]ossibly, yeah!".[50] The new single produced by Madonna, Timbaland and Justin is reported to be "4 Minutes" which Timbaland played at Philadelphia's Jingle Ball.[51]
In August 2007, Timberlake sold out two concerts at the Air Canada Centre in Toronto, and then played two sold-out shows in Winnipeg at the MTS Centre.[52]
In February 2008, Timberlake was awarded 2 Grammy Awards. At the 50th Grammy Awards Ceremony, Timberlake won the Male Pop Performance Award for "What Goes Around...Comes Around", and the Dance Recording Award for "LoveStoned/I Think She Knows".[53]
2008–present
With the wrapping up of the 'FutureSex/LoveSounds' tour of Australasia and the Middle East in November 2007, Timberlake resumed his film career. Projects underway early in 2008 were starring roles in Mike Myers' comedy The Love Guru and Mike Meredith's drama The Open Road. In March 2008 it was announced that he was be an executive producer in an American adaptation of the hit Peruvian comedy My Problem with Women for NBC.[54]
On March 17, 2008, Timberlake also released the single "4 Minutes", a duet with Madonna and features long-time collaborator Timbaland. The song is from Madonna's eleventh studio album Hard Candy, which also features four other songwriting and production collaborations from Timberlake. The single was an international hit, #1 on the United World Chart [55] and has topped the charts in Australia, Belgium, Brazil, Bulgaria, Canada, Denmark, Finland, Germany, Italy, Netherlands, Norway, Sweden, Switzerland and the United Kingdom and reached the Top 5 in Austria, France, Ireland, Japan, New Zealand and the United States. Timberlake also appears in the music video which was directed by Jonas & François. On March 30, 2008, Timberlake performed the song at Madonna's Hard Candy Promo Show at Roseland Ballroom in New York City.[56]
Other work
Timberlake has opened several restaurants in the United States.[57] In 2005 he launched the William Rast clothing line, sold in Bloomingdale's, with childhood friend Trace Ayala. The 2007 line contained cord jackets, cashmere sweaters, jeans and polo shirts.[58] In 2004, ABC hired Timberlake to write a song for its NBA coverage. In October of 2005, the Grammy Association awarded Timberlake for humanitarian efforts in Tennessee, alongside writer/director Craig Brewer, also a Memphis native.[59]
Near the end of 2002, Timberlake was the first celebrity to appear on Punk'd, a "candid camera" type show created by Ashton Kutcher to trick celebrities.[60] Three episodes later, he set up Kelly Osbourne to be "punk'd", thus making him the first celebrity to appear on the show more than once.[61] Timberlake later spoofed Ashton Kutcher and Punk'd in a 2003 episode of NBC's Saturday Night Live.[62] In 2006 he hosted the European MTV Music Awards. On December 16, 2006, he hosted Saturday Night Live, doing double duty as both host and musical guest for the second time. During this appearance, he and Andy Samberg performed an R&B song for a skit entitled "Dick in a Box," which some radio stations have aired as an unofficial single from Timberlake and has become one of the most viewed videos on YouTube. Apart from Nite Runner, Timberlake recorded another track with Duran Duran, called Falling Down.[63]
In 2007, Timberlake made an appearance on 50 Cent's third album, Curtis. Timberlake, along with Timbaland, is featured on a track called "Ayo Technology", which was the album's fourth single. Also, another possible collaboration will occur with Lil Wayne for his upcoming album Tha Carter III with Nelly Furtado and Timbaland.[64]
On November 12, 2007, the PGA Tour announced that Timberlake, an avid golfer who plays to a 6 handicap,[65] would become the host of the tour's Las Vegas tournament starting in 2008. With Timberlake's agreement to host the tournament, its name was changed to the Justin Timberlake Shriners Hospitals for Children Open. He will play in the celebrity pro-am on the day before the competitive tournament and host a charity concert during the week of the tournament.[66]
On March 23, 2008, Timberlake donated 100,000 to the Memphis Rock 'n' Soul Museum and another 100,000 to the Memphis Music Foundation.[67]
Personal life
Two early teen romances, first to a school sweetheart and then to aspiring pop singer Veronica Finn predated intense media interest, but both ended unhappily. Timberlake then entered a high-profile celebrity relationship with fellow pop singer Britney Spears, with whom he had worked on the New Mickey Mouse Club. This ended abruptly in March 2002, amidst tabloid press speculation on Spears' infidelity with choreographer Wade Robson, a mutual friend of Spears and Timberlake. Lynn Harless says as a mother she too was devastated regarding the break-up, but to this day speaks warmly of Spears, "Britney grew up on my living room floor. I still love her to death. They (Justin and Britney) were together 10 or 11 years and had, from day one, instant chemistry between them. She's a sweet girl. I just hate what she's going through now." The breakup influenced the lyrics and theme of Timberlake's hit "Cry Me A River", one of the most popular singles from Justified.[68]

Timberlake later dated actress-dancer Jenna Dewan (in mid-2002)[69] and actress-singer Alyssa Milano (between September and October of 2002).[69] Timberlake began dating actress Cameron Diaz soon after they met at the Nickelodeon Kids' Choice Awards in April 2003. Regular rumours of break-ups reported in the tabloid press were invariably denied.[70][71] On the December 16, 2006 episode of Saturday Night Live, Diaz introduced Timberlake as the night's musical guest, and the couple finally split shortly afterwards. They issued a joint statement on January 11, 2007.[72]

| | | |
| --- | --- | --- |
| " | It has always been our preference not to comment on the status of our relationship, but, out of respect for the time we've spent together, we feel compelled to do so now, in light of recent speculation and the number of inaccurate stories that are being reported by the media. We have, in fact, ended our romantic relationship and have done so mutually and as friends, with continued love and respect for one another.[73] | " |

In January 2007, Timberlake was linked to Jessica Biel when pictures surfaced of the two snowboarding in Park City, Utah during the Sundance Film Festival. On May 12, 2007, the gossip was refueled with the release of romantic pictures of Timberlake and Biel on multiple dates, specifically caught kissing while dining in the UK accompanied by producer/mogul Timbaland and then Manchester United footballer Alan Smith.[74][75] Timberlake was given sexiest Man titles by Teen People and Cosmopolitan magazines.[76]

Filmography
Komentáře
Přehled komentářů